Night Recording:
YouTube video link: https://youtu.be/ZR7LcSB904Q

Key Specifications
Factory Warranty: 1 year
Mounting : Include mounting bracket for standard and aero seat posts
Device dimension : 89mm x 56.8mm x 24mm (sleek design)
Camera : 105 deg wide angle, F2.5 large aperture
Video format : H264 (MOV/MP4)
Video Resolution : FHD 1920*1080 30fps with looping
Night Vision : Upgraded Sony IMX323 Sensor for improved night video quality
Battery : Extended 9.5hrs usage
Charging : High speed USB-C, 2.5hrs to full charge
Rear Light : up to 80 lumens COB LED, 180 deg wide angle
TF card : MicroSD card slot available
IP rating : IPX5
Connector : MicroUSB
Sensor : G-sensor+ DFT, crash and accident detection
Crash Recording : Automated shutdown camera 1hr after bike off-position from upright to retain latest recording
Product FAQ:
1. Do I need to format the SD card?
Ans: Yes you need and the cam comes with the build in function to do so. Insert SD card into slot. Under OFF mode, press and hold power button (do not release). Continue to hold the button until blue light begins FLASHING (do not release even when stable blue light comes on). Once blue light flashes, SD card is formatted record commences immediately.
2. How do I know if the cam is recording?
Ans: Only when blue light is flashing
3. Can I set the date, time and resolution?
Ans: Yes, remove card from the cam and insert SD card (with an adaptor if necessary) into your PC card reader. Open the folder and you should see a settings.txt file. Proceed with FAQ 4.
4. How do I set the date, time and other cam settings?
Ans: In the setting.txt file, change the following settings (refer to image file) and "saved" the file. Remove the SD card from your PC and put it into your cam. Power On, check for the blue flashing light and the recording with the date/time stamping should work perfectly.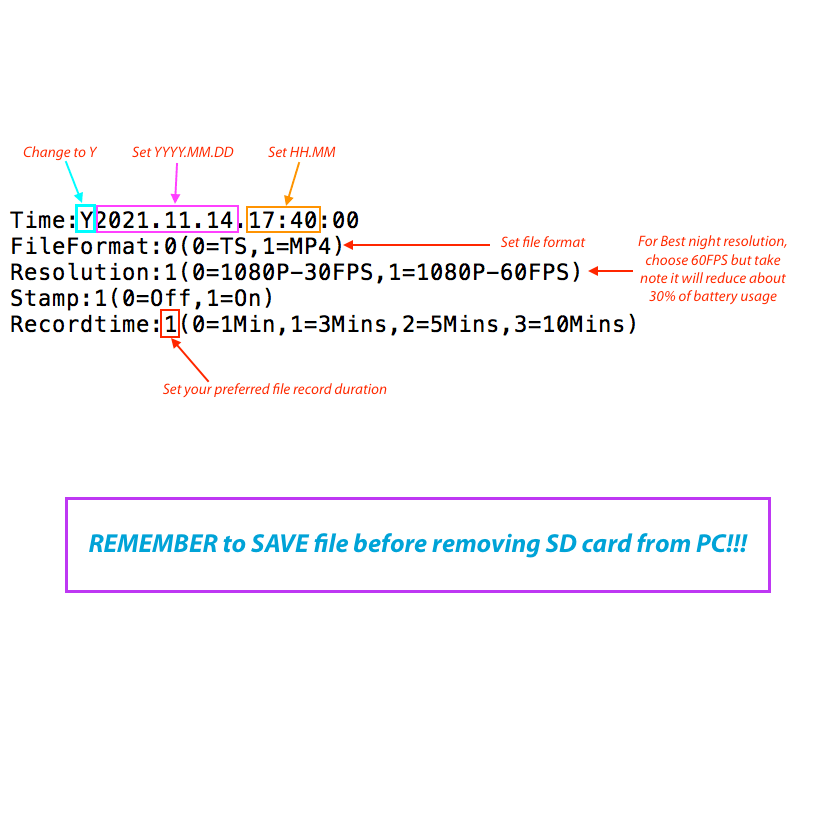 You should be good to go!